Contact Us
Phone: 86-29-62221100
E-mail:
info@rimemo.com
Add:Room 21007, Yang Yang International Plaza, No.132 Zhuque Avenue, Xi'an, China 710061
Guitar Pick Scratcher
In recent years, Rimemo has invested a lot of energy and money into research and development of scratch off products. Most of them have enjoyed very good selling, including:
Time has proved that each product has become one of our best-selling products, and the total sales volume of all kinds of scratch-off products up to now has exceeded one million pieces.
The tool we used to scratch on these items was a white plastic scratcher as shown in the picture below:

With the development of more creative scratch off products, we found this white plastic scratcher was not cool enough to match the new designs. Therefore, we decided to develop a more advanced scratcher, in order to better accord with the users'experience and perfectly present the features of our scratch off products.
Our designers constantly searched for information, and found that many scratchers in the market had the same shape as guitar picks, which were simple in style, nothing creative, and inconvenient to use. For scratch map products, the tortuous national boundaries could not be perfectly scratched off by using such scratchers. Moreover, it was not easy to scrape off for a larger scratch area, so it wasted time and energy. What's more, it was far from meeting the requirements in wear resistance. Therefore, our designers summed up the characteristics of the scratch tool, drawing again and again, modifying it continuously, and finally, a guitar pick scratcher with a new style and complete functions came out with below outstanding features: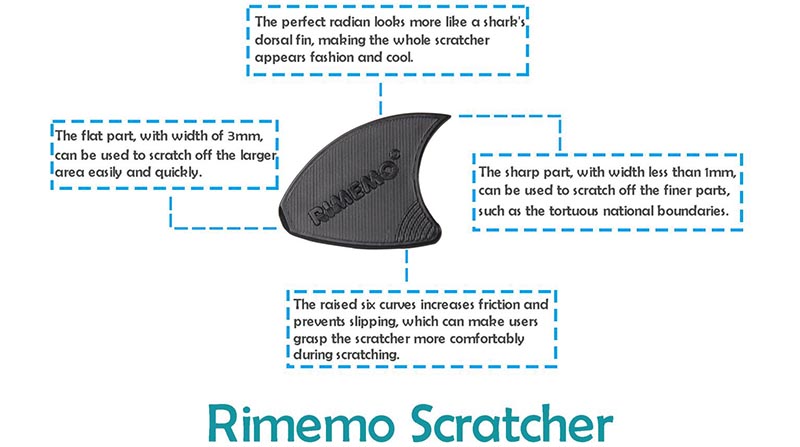 The newly designed guitar pick scratcher is made from engineering-level ABS material, which has the characteristics of high strength and high wear resistance. Its shape is like the dorsal fin of the shark, the overlord in the ocean. The matched black appearance shows its low-key and restrained peculiarity. Users can not only perfectly scratch off the tortuous edge details of the map, but also quickly and easily handle a larger scratch area. The trademark of our company RIMEMO is branded on the scratcher, which indicates that it is a scratch tool independently developed and produced by ourselves. It is not only a perfect product, but also a work of art.

We name this cool tool "Rimemo Scratcher" and hope it will further promote the sales of our scratch off products in the coming future.

The flat part, with width of 3mm, can be used to scratch off the larger area easily and quickly.

The sharp part, with width less than 1mm, can be used to scratch off the finer parts, such as the tortuous national boundaries.