Contact Us
Phone: 86-29-62221100
E-mail:
info@rimemo.com
Add:Room 21007, Yang Yang International Plaza, No.132 Zhuque Avenue, Xi'an, China 710061
Environmentally friendly notebooks are the general trend!
Time: 2022-08-03 Source: Author:
Thomas Y
Can cork be used as a notebook?
The cork we often see is made into various decorative boards, coasters, corks, insoles, etc. As you can see, cork is composed of many particles, the main component is oak bark, which is elastic, non-slip and wear-resistant. So how does it make a beautiful notebook cover?
The cork cover is a thin piece of cork as a veneer material and gauze to stick the edges to ensure the integrity and toughness of the cork. In this way, no matter how you bend it, the cork cloth will not fall off and be damaged.
| | |
| --- | --- |
| We print the world map on cork, just as you walk in every corner of the world and record every moment you pass by. Be a travel Tips, write down your travel mood, feelings, and draw the most beautiful scenery. This notebook is small and exquisite and most suitable. | |
| | There are also various printing patterns, Indian sunflowers - if you like Indian style, you must not miss it if you like yoga. |
In recent years, notebook cover styles have emerged in an endless stream, such as genuine leather, imitation leather PU, leather, PP, fabric, metal, etc., and people are dazzled. Although these materials are beautiful, the disadvantage is that they are not environmentally friendly enough and cannot be recycled.
Gorgeousness is no longer popular, fresh and simple, and returning to the basics is the general trend. I believe that everyone has seen martial arts dramas. The martial arts cheats are standard. The kraft paper cover and the notebook with retro thread have a strong Chinese style. Does it make you want to have your own "
Martial Arts Cheats
"?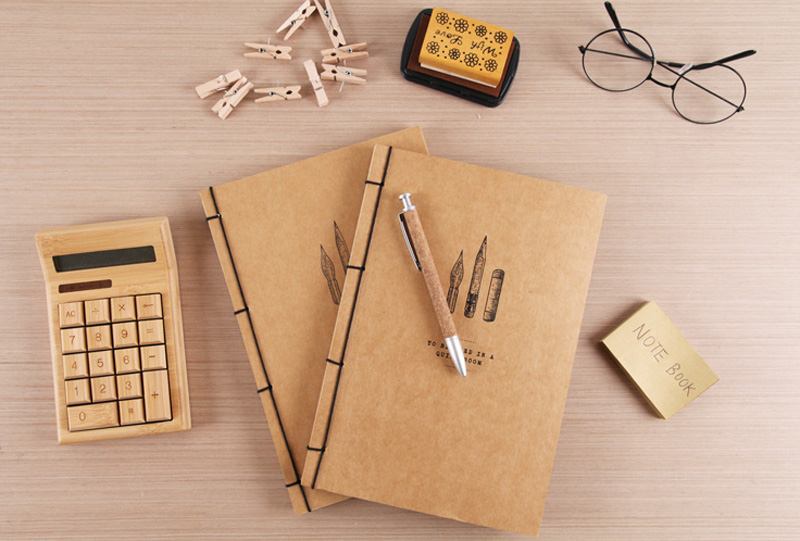 In the past two years, more and more countries import notebooks, all of which require factories and business units to have FSC certification. To trace all production links of wood processing enterprises, including the entire chain from the transportation, processing to circulation of logs, to ensure that the final products come from certified well-managed forests, so as to promote sustainable forest management and achieve ecological , social and economic goals.
| | |
| --- | --- |
| | FSC forest certification, also known as timber certification, includes forest management certification (Forest Management, FM) and production and marketing chain of custody certification (Chain of Custody, COC). The certification of forest management, also known as sustainable forest management certification or FSC forest certification for short, is aimed at forest management units, and is carried out by an independent third-party FSC forest certification agency according to the forest management standards formulated by the recognized principles and standards. |

The process by which forest management performance is reviewed to demonstrate that it meets the requirements of sustainable management. After passing the certification, enterprises have the right to mark the name and trademark of the certification system on their products, that is, the label of forest product certification.
Through FSC certification, we can effectively implement environmental protection measures, effectively supervise deforestation, and protect our living environment. my country is not only a big country of production, but also a country with a large population. It uses more paper and wood products than other countries. Under the circumstance that global resources are scarce and the global environment is severely damaged, we should abide by the international social order, do our part to achieve ecological environmental protection, and achieve a win-win situation for economy and ecology!